About Me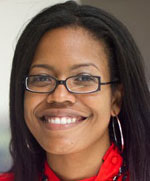 I am an Associate Professor in the School of Interactive Computing at Georgia Tech, and an Adjunct Associate Professor in the Department of Behavioral Sciences and Health Education, within the Rollins School of Public Health at Emory University. I am also an Adjunct Associate Professor at Morehouse School of Medicine, and an affiliate faculty member in the Cardiovascular Research Institute.

I am the founder and director of the Wellness Technology Research Lab.

Previously, I was an Assistant Professor in the Khoury College of Computer Sciences and the Bouve College of Health Sciences at Northeastern University.

I completed a postdoctoral fellowship in the Everyday Computing Lab at the Georgia Institute of Technology, where I worked with Dr. Elizabeth Mynatt and collaborated with Dr. Veda Johnson at Emory University School of Medicine. I hold a Ph.D. in Human-Centered Computing from the Georgia Institute of Technology and a B.S. in Computer Science from Northeastern University.

My digital health equity research lies at the intersection of human-computer interaction (HCI), social computing, and public health. I design, build and evaluate the impact of software tools that help people manage their health and wellness. My research specifically focuses on health equity. I study racial, ethnic and economic health disparities and the social context of health management. I take an ecological approach to technology design, whereby I conduct in-depth fieldwork to examine the intrapersonal, social, cultural, and environmental factors that influence a person's ability to achieve wellbeing--and how technology can help communities to overcome and directly address health barriers.

My current work includes equity-focused research in the areas of Black women's maternal and mental health, youth civic engagement, COVID health information practices and visualization, and faith-based health interventions.
Student Research Opportunities
I am currently seeking highly-motivated students at all levels to work on some exciting projects at the intersection of health & technology. Click here for more information.
Tweets by @andreagparker