Sabbatical in Roma - Fall, 2013
---
Wendy and I are spending a few months in Rome during my sabbatical. Here, I shall attempt to document some of our Roman adventures. From time to time, I'll add photos, etc., and occasional news. As is the tradition for blogs (but let us not call this a blog), entries appear in reverse chronological order.
You'll find us at Via Arenula, 29 in the Centro Storico of Roma. (Yes - it's the Colosseum that you see east of our place, near the edge of the frame.)

I wonder what the weather in Roma is like right now.
---
Nov 29: Thanksgiving Dinner in the Via Arenula
Friday night, we hosted a Thanksgiving dinner in the Via Arenula. Leonardo (il professore di cucina) and Don Penna were the guests of honor. Of course, when I say that we hosted the dinner, in fact I mean that Wendy hosted the dinner, with some able assistance from Kaia. My limited contribution to the evening (apart from manning the corkscrew) was to put together an evening play-list. Sure that sounds easy, but it's a trick to put together a play-list that might elicit "Wow - I haven't hear this in a long time!" or "What is that?? It sounds like X, but I've never heard it before." There were a few successes on this front, but the Italians are remarkably knowledgeable about the music of my youth, and more often than not, my selections were met by cheerful air guitar and singing along from Don Penna. But, back to dinner...

Wendy decided to prepare a traditional Thanksgiving dinner, modified slightly to incorporate the best of English cuisine (Yorkshire pudding and stuffing balls), and adapted a bit to availability of fresh ingredients from the local shops and market. We had roasted chicken, Yorkshire pudding, broccoli, corn, cauliflower, peas, stuffing balls, roasties (i.e., roasted potatoes), mashed potatoes, and bread. This was, of course, prefaced with antipasti, which included a 1 kg mozzarella (of course) and treats from the salumeria. And of course, after dinner came dessert: apple crumble (traditionally British) and tiramisu (traditionally Italian, courtesy of Leonardo). We even followed up with Amaro (just like in the wikipedia!). Some highlights are shown in the photos below.


| | | |
| --- | --- | --- |
| | | |
| My vegetarian wife, stuffing things into a large chicken (turkeys are not so easy to come by here). | Wendy and Kaia, slaving away. ( I am Spartacus!) | The traditional cutting of the giant Mozzarella. |
| | | |
| The big reveal! Don Penna does the honors. | The full feast, in all of its glory. | Let the dining begin. |
---
Nov 28: Thanksgiving on the Via Appia Antica.
The Ancient Appian Way (aka the Via Appia Antica) was a yet another triumph of Roman civil engineering. It was finished in about 300 BC, and stretched 350 miles from Rome to the south-east coast of Italy. In addition to providing logistical advantage to the armies of Rome, the road provided miles and miles of real estate that was ideally suited for funeral monuments and tombs of wealthy Romans - and the ruins of these monuments still line the road as it winds away from Rome.

On Thanksgiving day, Kaia, Wendy and I set out to hike the Appian Way. We took a bus past the Aurelian wall, and began the walk near the church of San Sebastiano (where one finds the arrow shown in the entry for Nov. 20). We walked about six km before retracing our steps and returning to central Rome (that's about an eight-mile round trip in Imperial Units). Along the way, we saw dozens of ancient tombs some of which were remarkably well preserved. The weather was clear and a bit cool, and since tourist season had long ago ended, we often had the road to ourselves for long stretches. It was probably the most peaceful day of our entire stay in Rome. There were moments when I was completely unaware of any other humans (other than Wendy and Kaia) --- I had not experienced this feeling for weeks. Even in my bed at 3:00am, in the Via Arenula, if one is awake, one is aware of other humans in the street below.

For fans of classic movies, the Via Appia Antica is the road along which the army of Spartacus was crucified. Sadly, I learned this after our walk along the road, and missed my chance to call out: I am Spartacus!


| | | | |
| --- | --- | --- | --- |
| | | | |
| Wendy and Kaia with the street sign antica. | A typical view: long cobblestone road, lined with tombs and pine trees, with very few fellow travelers. | In Italy, even along the most ancient of roads one can find the occasional cafe. | Ruins along the way. |
| | | | |
| Nothing says wealthy and dead like having your bust carved into your funeral monument. | In this photo I'm wearing my fine sweatshirt from La Sapienza (the Universita di Roma Antica). | A pretty big tomb. Wendy and Kaia are the tiny people in the photo. | The long walk home. |
---
Nov 24: Papa Francesco!
As you probably know, there's a new Pope in town, and in this town, he's known simply as Papa Francesco. As the daughter of Don Penna says, I like this Pope, in the way that I can like a Pope.

Papa Francesco is much in the news these days - sneaking out in the night to minister to the homeless, shaking up the internal structure of the Roman Curia, being Time Magazine's Person of the Year... But that is the public Papa Francesco; here, I prefer to write more intimately about Papa Francesco, and the pleasant Sunday morning that we (me, Wendy, Kaia, and maybe a few tens of thousands of other people) spent together in St. Peter's Square. The mass was conducted almost completely in Italian, so we didn't grasp fully the homily. Nor did we appreciate the significance of the very fancy box that Papa Francesco clasped to his chest, the box that we would later learn contained bones of St. Peter, brought into the public eye for the first time ever. Here, we shall not quibble about authenticity, and there will be no music videos. No, here we celebrate the joyous occasion, and revel in the warm Papal embrace.


| | | | |
| --- | --- | --- | --- |
| | | | |
| According to vatican.com (yes, it exists), the capacity of St. Peter's Square is about 400,000. I would guess a few tens of thousands attended the mass with us. | Kaia arrived Saturday night. Sunday morning - off to see Il Papa. | I suspect you'll see a few photos of Wendy and Kaia in the coming days. | Who knew that nuns could have speaking roles in a mass? |
| | | | |
| After the mass, Papa Francesco rode through the crowd in the Pope Mobile, and gave me a personal shout out: Seth! It is so good to see you! Did you see? I brought St. Peter's Bones today!. | Papa Francesco likes to kiss him some babies. | Probably when you saw the previous photos, you had a moment of concern about the Pope's safety in this large crowd, cruising about in an open car. Don't worry --- this guy is on the job. | And finally, the faithful go for lunch. |
---
Nov 22: Largo di Torre Argentina
Our flat in the Via Arenula is just a few blocks from Largo di Torre Argentina, where one finds the ruins of four ancient temples. Two of these are basically piles of rubble, but the two others have remnants of giant pillars, which I find somehow beautiful, even though the past glory is long gone. The bus stop that I use every day is adjacent to these ruins, so I see them at least twice each day (and more, if there's an evening trip for gelato). My daily view is from the back side, but from time to time I'll pass by the front, and each time I'm taken by just how impressive is this site, tucked away between busy streets, surrounded by buildings of the 18th-20th centuries. There's no fanfare and very few tourists --- but there is a cat sanctuary.


This is probably the Temple of Juturna, built by Gaius Lutatius Catulus after his victory against the Carthaginians in 241 BC (thanks, Wikipedia).
This circular temple with six columns remaining, was built by Quintus Lutatius Catulus in 101 BC in fulfillment of his vow at the Battle of Vercellae. The temple (aedes) was devoted to Fortuna Huiusce Diei, "the Fortune of This Day" (again, Wikipedia). Each day I spend in Rome is a fortunate one.
In the foreground, the ancient ruins. In the background, the Via Arenula. Our flat is just a few short blocks down the street.
Happy cats who live in the cat sanctuary, and who think that these temple ruins were built just to give them a place to hang, where humans cannot bother them (too much), and where small rodents must be plentiful.
Photo Credit: Wendy Truran (of course).
---
Nov 20: Memorabilia
Rome is littered with memorabilia from early Christian history. You can't enter a church without confronting the relics of some saint (relics being a euphemism for pieces of the mortal remains). But, I shall not indulge your ghoulish curiosities by posting photos of skulls or wax-covered cadavers. Instead, here are some photos of physical artifacts from the lives of Jesus and the Saints.

The church is somewhat careful about making claims of authenticity. For example, Pope Paul VI said that the relics of St. Peter had been "identified in a way that we can consider convincing" (so says HuffPo). Still, plenty of believers make pilgrimages each year to the churches pictured below. For my part, I shall take no position (publicly) on the authenticity of those artifacts shown below. But like Saint Helena, I do enjoy a good relic quest, and I have enjoyed tracking these down.


| | | |
| --- | --- | --- |
| | | |
| Peter's Chair is found in St. Peter's Basilica. You don't really see the chair. It's secreted away inside the giant alter piece. But it's there. | St. Peter's Chains are kept in San Pietro in Vincoli (guess the translation). Peter was imprisoned in Jerusalem and in Rome. Amazingly, both sets of chains have been recovered. Even more miraculously, the two sets of chains instantly fused together when they were given to Pope Leo I. | The crib of the baby Jesus is on display in Santa Maria Maggiore. You can see a bit of the wooden frame through the glass. Saint Helena brought this one home. |
| | | | |
| --- | --- | --- | --- |
| | | | |
| The Scala Santa, located in a small building just beside San Giovanni in Laterano, is the stairway that Jesus climbed to meet Pontius Pilate. Saint Helena brought the stairs back to Rome in the 4th century. Today, one must climb the stairs on ones knees, and plenty of people do so each day. | A section of the Column of Flagellation, i.e., the post at which Jesus was whipped, is housed in the Basilica Santa Prassede. This one was also on Saint Helena's wish list, and she finally tracked it down when she was in her eighties. | Santa Croce in Gerusalemme holds Saint Helena's greatest hits. In this case, you'll find (a) a piece of the cross of one of the three thieves, (b) pieces of the true cross, (c) two thorns from the crown of thorns, (d) one nail used for the crucifixion, and, (e) the finger of St. Thomas --- that's right, the very finger that Doubting Thomas used to probe the wounds of Jesus, thus dispelling those doubts. The finger is the upper left item in the case. | In San Sebastiano you'll find both an arrow that pierced Saint Sebastian, and the footprints of Jesus from the famous meeting along the road to Rome when Peter asked, "Quo Vadis?". (Note: I may be wrong here. These may be Peter's footprints), The arrow is in the lower left of the display case. |
Special Musical Bonus!
As a special treat, I include here a set of seven youtube videos, one for each of the items shown above. I will not say which video is meant for which artifact, because doing that would be just one step too close to sacrilege. (I shall not say whether the sacrilege stems from the religious or the musical side.) It's a fun little guessing game for you! Enjoy!


Joni Mitchell, Chair in the Sky with Jaco on bass, because - Jaco.
The Allman Brothers Band, Whipping Post. Yes - with Duane.
Aretha , Chain of Fools. Don't be offended; just move with the smooth Amsterdam groove.
AC/DC, It's a long way to the top, with Bon Scott jamming on the pipes.
ABC, Shoot that Poison Arrow. I know, there was no poison on the arrows that pierced Saint Sebastian, but this is my favorite song about arrows (sorry, Harry Nilsson). I'm not sure, but I think that maybe the double bassist isn't really playing...
Van Halen, And the Cradle Will Rock. I make no claims about the authenticity of the performance captured here. What is important is the experience of the individual who watches the video. Whether or not David Lee Roth is actually singing, or whether or not Eddie is actually playing is quite secondary.
Frank Zappa and the Mothers of Invention (with Flo and Eddie), Magic Fingers. OK. This one is really right at the edge of sacrilege. Probably you should not click this link if you're considering a pilgrimage to Santa Croce within the next few years.
If you do click, you'll have the treat of seeing Ringo introduce FZ while wearing an FZ disguise. Will you risk it??? The music starts at the 2:20 mark.
---
Nov 16: Cacio e Pepe
Long, long ago, way back in September, Wendy and I had cacio e pepe at a restaurant in Trastevere (the dinner is recorded below, in the entry for September 11). Since then, we've sampled the cacio e pepe at various restaurants, and finally, last night, we have dared to prepare it in our flat. Here is the final result: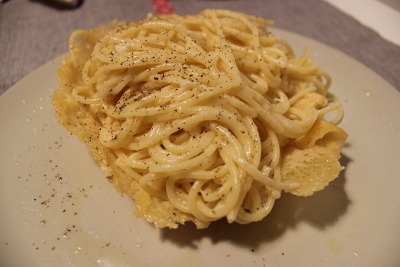 Your eyes do not deceive you --- the bowl is in fact made from Parmigiano cheese - grated, melted in a pan, molded into shape, filled with pasta goodness, and finally, devoured. Is it not beautiful!!

Below, documentation of the cooking adventure. Please note, contrary to what you might read in the wikipedia (but, who would trust the wikipedia for advice on Italian cooking and dining?!?), in cacio e pepe, there is no garlic, no Parmigiano, no cream. There is only spaghetti, Pecorino Romano, and ground pepper (the bowl is another matter).


| | | | |
| --- | --- | --- | --- |
| | | | |
| Grating the Pecorino Romano for the cacio e pepe. In the background, you'll see the grated Parmigiano, waiting to become edible tableware. | Pasta cooking, and mixing bowl being heated (to help melt the Pecorino later, when it's added to the pasta). | Tossing the pasta and cheese, a whirling blur of cooking virtuosity. | There's never enough Pecorino... |
| | |
| --- | --- |
| | |
| Molding the Parmigiano bowl (there was not enough Parmigiano in the flat, so the bowl is a bit smaller than one might like). | The final result. |
---
Nov 13: Santa Maria del Popolo
Way back in September, I posted photos of the Piazza del Popolo. At the north-east corner of the Piazza, one finds the church Santa Maria del Popolo. The art in this church is amazing - better than many full-fledged art museums. Here you'll find paintings by Caravaggio, sculpture by Bernini, and mosaics designed by Rafael. The sculpture and paintings found in the various chapels in the church range from beautiful to creepy. We've visited this church twice by now, and I suspect we'll see it again before we leave. If one were able to visit only one church in Rome, this might be the one (since St. Peter's is officially located in Vatican City, not Rome).

The photos in the first row are all from the Chigi Chapel. If you've seen Angels and Demons, then you know that this is the chapel where the first Cardinal was killed. You'll find here both Habakkuk and the Angel and the Demon's Hole. I was not able to pry up the cover to the Demon's Hole to check for any dead Cardinals. In this single chapel are two sculptures by Bernini and multiple mosaics from Rafael. I have passed a lot of time in this little space.

| | | | |
| --- | --- | --- | --- |
| | | | |
| The Chigi Chapel: Lorenzetto's Jonah (left), Piombo's Nativity of the Virgin (center), Bernini's Habakkuk (right), and the Demon's Hole in front of the alter piece. | Bernini's lamp (three contorted putti), Rafael's dome (mosaics from his sketches) | Habakkuk's angle pointing to the next church on the trail of the Illuminati | Bernini's Daniel, with Lion having a little taste. |
| | | | |
| This memorial can make you feel sad even if you have no idea who is this Augustini person. It's easily on par with the Bernini's in the church. You win special points if you find the yawning Wendy hidden in the photo. | Another impressive memorial. | One of the many creepy memorials. | Winner: Creepiest Memorial in the Church Award |
---
Nov 10: Il Cimitero Acattolico di Roma
If one dies in Rome, it is best to die a Catholic; otherwise, options for burial become somewhat limited. Nearly every dead body in Rome is interred in some church or on its grounds (in Rome, one need not bother with the qualifier Catholic when speaking of churches). The notable exception to this rule is the Cimitero Acattolico, which english speakers refer to as the protestant cemetery of Rome.

Rod Stewart once sang,
I couldn't quote you no Dickens, Shelley or Keats
'cause it's all been said before
We didn't find no Dickens, but we found Shelley and Keats (who were not catholic), and Wendy did indeed quote some Keats. She is a woman whom I would let tie my shoe! (You see, in that same song, Rod sang, The women I've known, I wouldn't let tie my shoe. My own experience down in Rome seems quite different from Rod's.)

Photos are below, each of which tells a story (don't it).

To any readers who dig the old Rod Stewart, back in the days when Ronnie Wood was playing behind him --- you're welcome.


The ancient Aurelian Roman city wall bounds the southern edge of the cemetery.
Two people from Yorkshire (one of the two is less conspicuous).
Keats, Severn, Truran.
Here lies one whose name was writ in water.
Shelley.
Nothing of him that doth fade, but doth suffer a sea-change into something rich and strange.
Hidden away in a small corner of the cemetery, one finds a small stairway that descends to a cat shelter. Here are two of its residents.
A view across the cemetery, to the Aurelian wall.
Grave of a sickly lad who finally perished in Rome, apparently with his beloved dog by his side.
One more view across the cemetery.
---
Nov 7: And now for something completely different
We spent the first week of November in Tokyo, the location of IROS 2013. IROS is, of course, the International Conference on Robotics and Intelligent Systems, so you can rest assured that you will see robots in the photos below. In addition, as a rare extra treat, you'll also see two videos below that capture very nicely the current technological status of robotics. And, of course you'll see a few photos of Wendy and me, doing tourist things.


| | |
| --- | --- |
| | |
| Robots (and the occasional Japanese girl) breaking it down Gangnam Style. | Dancing robots, giant robo-girls carrying human girls, motorcycles, a robo-DJ, cheering fans with glow sticks -- captured by Wendy's cinema-riffic videography. |
| | | | |
| --- | --- | --- | --- |
| | | | |
| Steeling ourselves in preparation to cross the square in front of Shibuya Station. | The moment of crossing. | Giant robots on the move in Shibuya. | Faithful dog Hachiko, who came to the station to meet his master, even many years after his master's death. |
| | | | |
| Giant robo-girls (again, because I like them), this time on the job in the Robot Restaurant. | Spinning the jams in the Robot Restaurant (phono cartridges are so yesterday). | Karaoke! Famous roboticist Stefano Stramigioli and I belt out the tunes, to the delight of our IEEE colleagues (whose names I daren't list on this site). | Wendy, feelin' it. |
| | | | |
| Wendy with an Asian panda (I do not know if he is skilled in the martial arts). | If you have a potato, stick and a knife, you can make a very, very long potato treat (also, you'll need a vat of hot oil). | Wendy agog at the giant octopus tentacles that can be bought in the market, as if to ask, "who would eat such a thing?" | Me, answering Wendy's question, albeit with much smaller tentacles. |
| | | | |
| Feeding birds in Yoyogi Park. | Making new friends in Ueno Park. | A view across Yoyogi Park. | Guys dancing in a dragon costume, at the Meiji Shrine. |
---
Oct 28: Il Ritorno del Cuoco
Some weeks back, I posted photos of my first cooking lesson. Not so long after that lesson, we hosted a dinner in the Via Arenula, but I neglected to post any photos of that event. I remedy that oversight now. Admittedly, much of the food for this dinner was not actually prepared by me, but neither does the orchestra conductor play all of the instruments.

| | | | |
| --- | --- | --- | --- |
| | | | |
| For the antipasti, meats from our salumeria, Antica Norcineria Viola. | Presentation is important, and who better to arrange the display of meats than my vegetarian wife! | In the center of this photo, a one kilogram mozzarella. | There are not words to describe how delicious was this desert. Similar to the french Piece Montee, a big pile of profiteroles, covered in chocolate. |
| | | | |
| How many Americans does it take to make one pasta dish? | Pasta, tomatoes, basil - does one need anything more? | Well, one could add a bit of pate di peperoncino, Jalapeno #5. | Now, the eating. It is not the time for conversation. |
---
Oct 26: Mom and Dad in Rome
My mom and dad came to Rome for a few days in October. Mostly, they stayed with us in Rome, but they also managed to visit Venice, Florence and Pisa on a grand train voyage. They have now seen cities in Europe that I have never visited.

| | |
| --- | --- |
| | |
| The Four Rivers fountain of Bernini (the water is certainly not deep enough to drown a Cardinal). | In the Cortile della Pigna (aka the Pine cone courtyard) of the Musei Vaticani, the Sphere Within a Sphere in the background. |
| | |
| In St. Peter's Basilica, with Bernini's Baldachin (the big four-pillared bronze thing) in the background. | Dinner in the flat in Via Arenula. |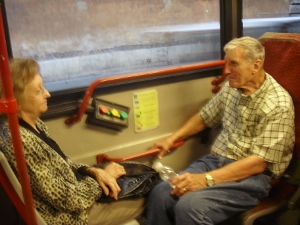 My favorite photo of the visit: mom and dad riding in a Rome city bus, coming home from a day of tourism in the Vatican museums.
---
Oct 22: Raccolta delle Olive
Everyone knows that Marlon Brando played Don Vito Corleone in The Godfather, but how many noticed why he is called Don Corleone? And how many of you remember exactly what was his day job? Well, Don Vito Corleone was actually born with the name Vito Andolini, in the town of Corleone. On arrival at Ellis Island, the immigration folks took Andolini as his middle name, and used his town of birth, Corleone, as his last name. And so, in America he became Vito Corleone, and eventually, thanks to a successful career track, Don Corleone. For his day job, Don Corleone was in the olive oil business.

And why, you might ask, this little lesson in cinema trivia? Merely to introduce my colleague and friend, whom I shall refer to from now on as Don Penna. He may have been born as De Luca, but his country villa just outside of the town of Penna in Teverina and its orchard of olive trees merit the title: Don Penna. (Certainly you should click the link above, and have a look at the beautiful Umbrian countryside.)

On a fine Tuesday morning (a morning that one might well have spent giving lectures about Automation), Wendy and I joined Don Penna, for the one-hour car ride from Rome into Umbria, where we spent the day harvesting olives in the orchard, transporting olives to the mill (to be crushed into olive oil), and celebrating with a drink on the square. It was a glorious day in the Umbrian sun.

As always, click any photo for the larger version.


The orchard.
Some of the older trees, the ones with more character.
Wendy and Don Penna, picking olives. The systems is ingenious - place a large net under the tree, then merely pick the olives and drop them into the net to be collected later.
"You see, if we lift the edges in this way, we create a potential field with a single global minimum, so that each olive will arrive to the equilibrium point by simple gradient descent!"
Umbria! The view from the terrace of the country villa.
(Yes... it is quite likely that you see here also quite a bit of Lazio.)
Don Penna has donkeys! You will see here four donkeys if you look closely. If you look very, very closely, you may see five, since one of the donkeys is pregnant (because a mere fence between donkeys cannot overcome donkey passion in the spring time).
The old Don's in the town square, having a drink and a game of cards.
Me and Don Penna, wandering through the village, at the end of the olive harvest.
Special Bonus Automation Photos!
Here is a special bonus treat for my colleagues in the world of robotics and automation. These days, the mill is essentially fully automated: pour olives into a big vat, and olive oil trickles out of a spigot at the other end of a long chain of automated olive processing. This would be a perfect example for an automation lecture, if one were not too busy harvesting olives to teach.
Step 1: Load the olives into special transport vehicles (this may require to remove the rear seats from your car).
Step 2: Transfer the olives from small baskets into giant baskets, so large that they must be moved by forklift.
Step 3: Pour the olives into a big vat, from which a Rube Goldberg-ish contraption lifts them into a cleaning stage, where they are washed and separated from leaves and twigs.
(Note: you should not confuse Rube with Ken, a latter day hero of automation.)
Step 4: Clean olives!
In case you wonder what becomes of the refuse, it is collected and later used for fuel (it is not the most appealing photo from the olive mill).
Step 5: Olives are ground into a paste.
Step 6: A bunch of big machines further process the paste, eventually extracting the pure oil.
Step 7: Collect the delicious results in a bucket. Yes -- buckets and buckets of olive oil!
---
Oct 18: Campo di Fiori
Campo di Fiori is a five-minute walk from our place. By day, it's a thriving market. In the afternoon, the market closes up, and the square transforms into a large public space, typically with a few musicians and other street performers - surrounded by restaurants, cafes, and a couple of wonderful butcher shops. Below are some photos of the market. No doubt, some future posting will consider the butchers, because I love my butchers.


| | | | |
| --- | --- | --- | --- |
| | | | |
| Campo di Fiori translates literally to field of flowers, and one still finds flower stalls here. | Maybe this stall is run by a fellow who brings his wares to market by bike. Maybe the bike is just for tourists. Let's assume the former. | It turns out that Italians really like their tomatoes. They have more kinds of tomato than Eskimos have words for snow. | By far the most surprising culinary revelation of our time in Rome: the artichoke. Previously a most improbable sentence, Let's go to the ghetto and have some of those delicious artichokes, is now commonly spoken, without sarcasm. |
| | | | |
| More photos of delicious Italian fresh foods. | For Italian cooking - merely let the ingredients do the work... | ... and there is no shortage of potential ingredients. | Fruits - because a piece of fruit at the end of an Italian meal means that it's healthy dining! |
---
Oct 15: Gelato
In Roma, the weather is still delightfully warm. Warm enough to stroll to the nearby Giolitti for an evening gelato, the Italian version of ice cream --- which is not at all like American ice cream, though I'm hard pressed to articulate the differences.

If La Bamba (a fine Mexican restaurant in Champaign) can boast "Burritos as big as your head!" then Giolitti can make an analogous claim for their piccoli coni. I'm not sure that I understand the Italian word piccolo, which, my Italian dictionary assures me, is the word for small.

| | |
| --- | --- |
| | |
| Giolitti on the Via Del Vicario, which I think is Italian for live vicariously by looking at photos of Seth and Wendy having delicious gelato. | Baskin Robbins has nothing on these guys. |
| | |
| Just in case one tires of gelato, there are a few tasty delights in the bakery counter. | Gelato as big as your head! |
---
Oct 10: Quid Pro Quo
Italy has been very good to me during the last weeks, and Italians have been very willing to teach me all sorts of things about la dolce vita. And so, in return, I am teaching a few Italians about ways to apply probability theory to robotics, in a four week short course at La Sapienza (aka The University of Roma). Last week, we derived the optimal Minimum Mean Squared Error (MMSE) estimator using the orthogonality principle, and this week, we'll derive the Kalman filter as a special case of the optimal linear MMSE estimator. One would think that at some prior point in my life I would have worked through a complete derivation of the Kalman filter, but somehow I have avoided it --- until now. It turned out that I had a lot of learning to do, plenty of gaps to be filled in my education. Luckily, I had some time, and very good source materials.


| | |
| --- | --- |
| | |
| Our dining room table, which has been appropriated for class preparation. | In a fit of self-indulgence, I bought a nice hardbound blank book, in which I write out the notes for my lectures. The scholarly appearance of this helps hide the fairly frequent lack of rigor. |
| | |
| Using the orthogonality principle to prove that E[X|Y] is the optimal MMSE estimator! Please forgive the fact that at the end of the proof I wrote the implication in the wrong direction ---- time was running out, and my lectures become a bit frayed in the last minutes. | Look at the happy students!!! They love this stuff! |
---
Oct 5: Il Cuoco
Sabbaticals are the time for learning new things. I've been learning about controlling robot arms that have internal compliance, the Zero Moment Point and how to plan trajectories for bipedal robots, model predictive control. I've even worked through a derivation of the Kalman filter starting from the orthogonality principle (thanks, Bruce).

But most importantly --- I'm learning to cook Italian food. Until last weekend, it was a program of self-study (not even a MOOC). But last Saturday, a colleague invited us for dinner, and more importantly, for a lesson in cooking. On the menu: pasta a la vongole (aka pasta with clams), pasta a la calamari, and the biggest mozzarella that I have ever seen.


Chef Leonardo explaining how one prepares the calamari sauce.
The vongole.
Cooking up a storm.
Adding the pasta to the vongole sauce.
There comes a moment in the preparation of an Italian meal when the American should step aside, and let real Italians do the cooking. The safest thing is to simply put ones American hands behind ones American back, and step to the side.
The passing of culinary knowledge to the next generation.
Italian family dinner.
Exactly like the movies!
A giant mozzarella - probably 2.5 lbs. The plate, fork and knife are normal sized dinner ware.
---
Sep 29: Il Colosseo
Probably there is no more iconic image of Rome than the Colosseum. You won't find those iconic images here. The Colosseum is big. Much, much to big to fit into the frame of my current camera. One needs either a wide angle lens or a helicopter to capture its full scope in an image. So, here are a few attempts to squeeze Il Colosseo into a photograph. Undoubtedly, we shall return to this place - and hopefully I will by then have acquired a wider-angle lens.

The Colosseum is actually in the shape of an ellipse, not a circle. The design is essentially to hack two amphitheaters together. The base is six acres (that's about twice the size of what seemed to me in my childhood to be an infinite woods behind the house where I grew up), and the height is about 160 feet. Not bad for ancient architects.
| | |
| --- | --- |
| | |
| This photo is from the Foro Romano (aka the Roman Forum). I loved being in the ruins of the Forum. This is a rare photo of the Colosseum that isn't filled with tourists. | The view along the major axis of the elliptical floor plan. |
| | |
| A slightly off-axis view. | Sisters. |
---
Sep 26: Il Pane
Before coming to Rome, I understood that the French were the world champions for bakeries - not just the bread (which is, of course, wonderful), but the many tasty delights that lurk just under the glass counter in most any boulangerie. Last week, my Italian colleagues took me to a place called Panella. It was a nice afternoon, and our normal lunch spot was closed, so we took a walk north along the Via Merulana (at the northern end of this street, one finds the Basilica di Santa Maria Maggiore, but that is for another entry). After lunch, I heard my colleagues discussing:

Should we take him for the coffee?
Yes, of course we go for coffee?
No, no -- I mean the good coffee.

And so it was that they agreed to take me to a magical bakery called Panella. Wendy and I returned a few days later, and had tasty wonders with delicious Italian coffee.

| | |
| --- | --- |
| | |
| This is a replica of the Colosseum, made from bread. I'm looking in, watching tiny bread lions devour tiny bread Christians, while a tiny bread Caesar watches from his tiny Royal Box (also made of bread). | A bread carousel! |
| | |
| Arrr.... me doughy maties. Let's take to the seas in this fine bread boat. | Delicious goodness, along with one cappuccino and one cafe lungo. |
---
Sep 23: SOLIDARIETA!
Last Sunday afternoon, Wendy and I decided to have a nice, peaceful stroll to the Basilica di Santa Maria Maggiore (one day I shall post photos of the actual Basilica). Little did we know that this would be the day for marching in the streets. According to the google, the protest pamphlet said the following:

No to the opening of the landfill Falcognana
Closing of harmful landfill sites in Lazio
No to new and existing incineration plants
Moratorium on biomass power plants
No to the overbuilding of our territories

In case you want to find solidarity with your Italian friends, you may like to know that the Italian word for overbuilding is cementificazione. Just say NO to it.

At first, we merely took photos, but cementificazione really makes my blood boil, so soon I was in the streets, marching with my Italian brothers and sisters.


| | |
| --- | --- |
| | |
| Mobs in the street (which is pretty much made of cement, and surrounded by building that are made of cement - I think that's why they're so angry). | Policia - plenty of security in the Roman streets |
| | |
| Because children also stand against cementificazione. | Fighting the power. |
---
Sep 22: The Porta Portese Market
Each Sunday morning, in Trastevere there is a giant market. Many of the stalls are essentially small outlets for local retailers, but there's also quite a bit of cool old stuff. The market stretches for nearly a kilometer along the longest of its several streets (shaming the Walthamstow market).

It seems that beverages are very important here, so my market purchases were little glasses for amaro, and cups and sugar bowl for coffee. The coffee cups are cool - brass bases holding porcelain cups. These are destined for a partnership with an American Nespresso machine.
NOTE: Averna and Bialetti not included in market purchases.

Below, you'll see some photos, including new treasures for Roman life. Click any of the photos for the larger version.


| | | | |
| --- | --- | --- | --- |
| | | | |
| This is a market for the locals. Lots and lots of locals. | You can find loads of random kitchen gadgets, | all sorts of antique objets d'art, | birds, |
| | | | |
| cables(!) and electronica, | Wendy in the 0.50 Euro booth (that's right, every item in those giant piles is priced at half a Euro --- and that sort of thing demands focus), | and lighting. | And here are the new treasures for Roman life. |
---
Sep 17: The Piazza Farnese - the hope of Italy's football future
My friend Jean-Paul spent a sabbatical in Rome not so long ago. In fact, he and Michele stayed in a flat very near to where Wendy and I are living now. Because of this, he is a wonderful source of advice about the neighborhood. Recently, he suggested that we should take a drink in the Camponeschi, a small bar at one end of the Piazza Farnese. He told us the perfect time to go for watching impromptu games of football (yes... that's "soccer" to Americans), and even gave us tips about which of the boys were the Italian stars of the future. (You'll see the future Maradona below, long hair, gloves - the picture of future Italian football greatness.)

I have come to know now that the Palazzo Farnese - the large building in the photo below, the one that dominates the square - is in fact the French embassy in Rome. I noticed that no small number of patrons of the bar were speaking French. It seems that Jean-Paul has steered me to a small piece of France, hiding near the Campo di Fiori. Maybe he is jealous that the french portion of my heart might turn even momentarily toward Italy...


| | |
| --- | --- |
| | |
| The Palazzo Farnese, looming large over the Piazza Farnese, and hiding the entire Roman branch of the French bureaucracy. | The charming little terrace, where I had Campari while watching the young boys play football. |
| | |
| The hopes and dreams of Italian football fans. | I like that guy's hair. |
---
Sep 15: Piazza del Popolo
The People's Square in Rome is one of the largest public squares that I've seen. In the center you'll find an Egyptian obelisk of Ramesses II from Heliopolis. In the north-east corner, you'll find Santa Maria del Popolo (where the first Cardinal was murdered in "Angels and Demons"). To the south, the churches of Santa Maria in Montesanto and Santa Maria dei Miracoli. The square is at the north end of the city; we have yet to dare to go further.


| | |
| --- | --- |
| | |
| Looking north across the Piazza del Popolo. The church Santa Maria del Popolo is just to the right of the obelisk. | A church so nice, they built it twice. Santa Maria in Montesanto (left) and Santa Maria dei Miracoli (right) |
| | |
| Looking east across the Piazza del Popolo. | Wendy among the People. |
---
Sep 14: Bernini in Trastevere
It really is true: most any random church in Rome seems to contain beautiful art. About ten minutes walk from our place, we found Chiesa di San Francesco a Ripa (that's right - the church has a .com web site). You can see in the photo below that there's nothing special about this church, and nothing special about the piazza on which it sits (except that it is named for St. Francis of Assisi, who spent time in the church, and whose stone pillow is, I am told, kept to this day in the cell in which he slept). And yet, wander inside and you come across a most wonderful Bernini sculpture: Beata Ludovica Albertoni. If it doesn't remind of you Santa Teresa in Exstasis, then you simply have not watched "Angels and Demons" enough times.


| | |
| --- | --- |
| | |
| The remarkably unremarkable exterior of San Francesco a Ripa | The Beata Ludovica Albertoni by Bernini. Click it. Then click again. It's really worth a closer look. |
---
Sep 11: Cacio e Pepe in Trastevere
So, Anthony Bourdain, a guy with a show on the Travel Channel (OK... he does have a few other credentials) shot an episode in Rome. In that episode, he gushed about the Cacio e Pepe at a secret restaurant in Rome, a restaurant that he would not name. Well, it's hard to keep a secret from the internets. We tracked it down, and it was exactly as delicious as Tony said. In an homage to Bourdain, black-and-white photos this time (except for the main event, whose story really must be told in color).


| | |
| --- | --- |
| | |
| The top-secret restaurant is the Roma Sparita in Trastevere (I think that you shall read this name many times in the coming days). We took a small table on the terrace. | Wendy and IL vino rosso di casa. |
| | |
| The reason to find this place: Cacio e Pepe. Your eyes do not deceive you. The bowl is actually made of Parmesan cheese (heat it up in a pan, mold it into shape, fill it with pasta deliciousness). | I was a very happy customer. |
---
Sep 8, 2013: Luxembourg
There was no time to settle down in Roma. On Wednesday (Sep 4) I flew to Luxembourg for a two-day meeting about robotics in Europe. Sure, robotics in Europe is super-interesting - but it's not so photogenic. Therefore, you'll have to settle for these two no-robots-shown photos.


| | |
| --- | --- |
| | |
| Roboticists gotta eat. Here you'll see (clockwise) me, Cecile, Olivier, Anna, Bruno and Tamim. If you know Bruno, then you have already guessed that it was Bruno who made the reservations for Ikki. | Who would have guessed that Skype Headquarters is in Luxembourg? |
---
Sep 3, 2013: The Tiber near our flat
We live about two blocks from the Tiber. If you walk north along the Tiber, you soon arrive to the Vatican. The Via Arenula crosses the Tiber at the Ponte Garibaldi, which is where this photo was taken. The bridge you see is Ponte Sisto, a pedestrian bridge that connects the Campo di Fiori with Trastevere (where one finds the best restaurants in the world - at least for people with normal budgets). The dome in the distance is St. Peter's. As usual, click it to see a larger version.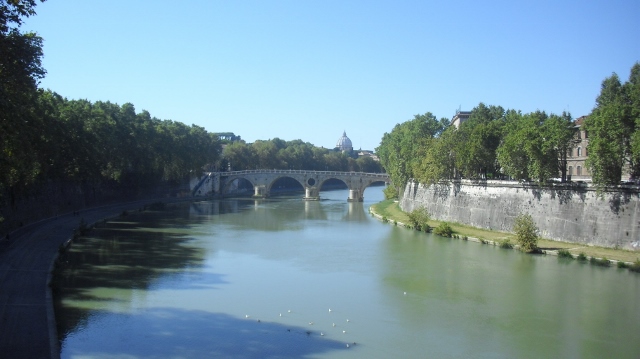 ---
Sep 2, 2013: Home sweet home
I arrived in Roma on September 2, 2013. This is where we'll be living. If you want to see Wendy in splendid detail, simply click the photo to see a more detailed version.

| | |
| --- | --- |
| | |
| A view of our flat from just across the Via Arenula. That's Wendy in the window. Even though she didn't actually arrive until Sept. 9, this seemed like the right photo of our flat. Our flat is big -- every window that you see on the first floor is ours. | Happily, we live on the first floor, and therefore we won't need to depend on this fine modern elevator. |


Our place is very near the center of the historical district (the Centro Storico if you parlare a bit of Italiano). We live very near to many of the famous landmarks of Rome. Here are a few examples (and you can even see the route we would take to visit them, simply by clicking the links).
---