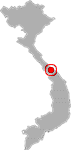 Home
FACs
More About FACs
The AO
A Shau Valley
Hué
• Hué Cit Airfield
• MACV Compound
• LCU Ramp
• Hué Goose
Battle of Hué (Tet 1968)
• Trail FACs
The Missions
Visual Recon
• Sunken Sampan
Close Air Support
• Rules of Engagement
• TACS
• Battle at Hua Cu
Interdiction
• McNamara Line
• Choke Points
Ranch Hand
Arc Light
SAR
Hammer 51 Rescue
Search for Jolly 23
Jungle Penetrator
Legacies

Aircraft
O-2A
Glossary
Resources

Contact






















Return to Top

LCU Ramp




LCU at the Hué ramp, 1967.
Photo courtesy of Joel Packman




One-half kilometer north of the MACV compound on the Perfume River was a boat ramp that served as the military port for Hué and Thua Thien province. It was called the LCU ramp because of the Landing Craft, Utility, that were its most frequent users. This ramp is mentioned in several accounts of the Battle of Hué.

Some of the Trail FACs under siege at the MACV compound during Tet 1968 made their escapes through the LCU ramp area. They found their way to Danang where they picked up new O-2s to join the fight at Hué.



Click here for stories of the Trail FAC's during Tet 1968.



Much of the bulk resupply and rolling stock that came into the Hué area arrived through this river port facility. Before the 1968 battle, the line of communication from the major deep water port of Danang by sea then up the Perfume River was much preferred to the road convoy route up Highway 1 over the treacherous Hai Van Pass.


During Tet the situation changed drastically for the Army and Navy crew members of the supply craft plying the Perfume River. The VC and NVA units besieging Hué made a determined effort to cut this supply line. Several of the boats were sunk or heavily damaged. Army veteran Robert Scott was a crewmember on an LCU making the run into Hué during the fighting in February 1968. Click here to read his account.

The operation to supply northern I Corps from Danang through the river ports of Hué and Dong Ha was run by the joint service Transportation Management Agency (TMA). This effort has been document by Army veteran Joel Packman who worked at the Hué LCU ramp and lived at the MACV compound. Click here or on link above to read his story.
Hué
Battle of Hué