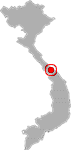 Home
FACs
More About FACs
The AO
A Shau Valley
• A Shau SF Camp
Hué
• Hué Cit Airfield
• MACV Compound
• LCU Ramp
• Hué Goose
Battle of Hué (Tet 1968)
• Trail FACs
The Missions
Visual Recon
• Sunken Sampan
Close Air Support
• CAS Munitions
• Rules of Engagement
• TACS
• Battle at Hua Cu
Interdiction
• McNamara Line
• Choke Points
Ranch Hand
Trail Dust Mission
Arc Light
SAR
Hammer 51 Rescue
Search for Jolly 23
• Msn Reports
• Search Area Map
• Search Rejoined
• Link to Past
Jungle Penetrator
Legacies
Aircraft
O-2A
Glossary
Resources
Contact
Return to Top




A pre-1968 view of the citadel at Hué looking northeast across the Perfume River. The Imperial Palace is located in the square area just below the center of the image. The Hué Citadel airfield is just beyond the Imperial Palace grounds, slightly left of the image center.




Hué was the imperial capital of Vietnam until 1945. It still is revered as a cradle of Vietnamese history and culture.

The city is located along the Perfume River about five miles in from the South China Sea. It is at the geographic north-south center of Vietnam. The focal point of the city is the citadel located on the north side of the river. The more modern New City on the south side of the river is home to the University of Hué.

During the Tet Offensive (January 1968), Hué was the largest city captured and held by the North Vietnamese Army (NVA). The city was recaptured by U.S. and Army of the Republic of Vietnam (ARVN) forces in the bitterly fought 25-day Battle of Hué.

I arrived in Hué in May 1968, less than three months after the battle. I was assigned to the tactical air control party (TACP) supporting the 1st ARVN Division headquartered in the citadel. We flew from the Hué Citadel airfield inside the walled city and lived in a Military Assistance Command, Vietnam (MACV) compound, a former hotel, just south of the river. This compound was one of only two areas in the city not captured during the Tet 1968 attack.
Click here for more on the Battle of Hué


---
Link to images of Hué and the MACV compound c 1967 (pre-Tet 68)
FAC Missions
MACV Compound