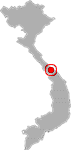 Home
FACs
More About FACs
The AO
A Shau Valley
Hué
• Hué Cit Airfield
• MACV Compound
• LCU Ramp
• Hué Goose
Battle of Hué (Tet 1968)
• Trail FACs
The Missions
Visual Recon
• Sunken Sampan
Close Air Support
• Rules of Engagement
• TACS
• Battle at Hua Cu
Interdiction
• McNamara Line
• Choke Points
Ranch Hand
Arc Light
SAR
Hammer 51 Rescue
Search for Jolly 23
Jungle Penetrator
Legacies

Aircraft
O-2A
Glossary
Resources

Contact
















Garfield, the Hué Goose




Garfield, the Hué Goose, June 1968 Photo © Tom Pilsch




Many accounts of the Battle of Hué mention an incident during the early hours of the 31 January 1968 attack when a white goose fluttered into the MACV compound.


During the offensive, a strange thing happened. A white goose appeared at the MACV compound and stayed around throughout the 26 days of fighting. We all joked that it was seeking a safe place. We named the goose Garfield, and he gave us something to take our minds off the battle.

James M. Mueller
Tet In Hué, p. 5




Garfield on Guard © Tom Pilsch
(Click on image for larger view)

Garfield the Goose became a fixture in the Doezema Compound after the 26-day battle and was regarded as a mascot by MACV Team 3. Garfield's "turf" was the paved parking area between the hotel and the compound gate on Tran Coa Van Street. He could be found there most of the time. After dark, however, he assumed his post, a specific spot just inside and centered on the gate. From this vantage point the feathered sentinel honked out a warning whenever someone approached the barricaded gate. It was uncanny. He was there every night, same spot, same vigilant stance.

It was this dedication and tenacity that lead to his ultimate demise. One night in the summer of 1968 Garfield was killed by a truck that was returning to the compound after hours. The driver did not see him, and Garfield apparently did not give ground to the wheeled intruder.
Hué
Return to Top
LCU Ramp